Many people enjoy using four wheelers because it is a fast way to get around and you can go off-roading in search of adventures. However, they also enjoy four wheelers and Jeeps because it is something you can customize and get dirty with. If you have a strong sense of adventure and a true desire to get a little mud on your tires; you may also want to consider one of these motorized vehicles. This will then enable you to customize it to the fullest.
Adding Non-Technology Based Accessories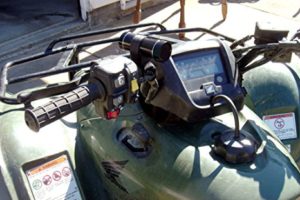 When shopping for technology that you will use with your ATV, you may want to first start with storage racks, ATV covers to keep it out of the weather when not in use, and other things. These items will give your four-wheeler more useful things and they are often an affordable way to start creating your dream ride. Can you imagine having a storage area that will hold your backpack, tent, sleeping bag, or other things? It can even be in a box so that no matter how down and dirty you get; your items can stay dry. You can also add mirrors on each side to give you the ability to see what is behind you without looking over your shoulder.
Technology for the ATV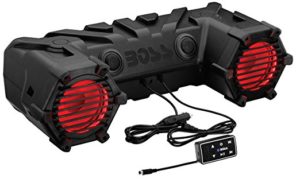 There are many radios that can work on your four-wheeled vehicle. There are GPS devices that you can attach to the front of your ATV to help you get back home at the end of a weekend long adventure into a new area. There are often water resistant and promise to provide quality sound. To power your accessories, you may need to accessorize your battery so that everything will have enough power. You may even want to consider a battery tender to ensure that you always have access to a full charge. This will make it possible for you to charge up even those smaller devices such as four wheeler speakers.
Technology for Your Jeep
If you prefer to have a Jeep over an ATV, you can still add to it to make it better. You may choose to add off road tires, lift kits, wenches to help others get out of a sticky situation, and much more. They can also make use of GPS systems, high-tech speakers, and heavy-duty speakers that are not easily affected by the water that your adventures may expose it to.
The fog lights, work lamps, bug shields, racks and other items for your Jeep may be able to work just as well on an ATV. You will have to read up on the parts that you want to see exactly what you may be able to do with them. In all cases, upgrading just a few things on your vehicle can make your outdoor adventures more enjoyable in every way. So why not take advantage of it and enjoy it to the fullest?